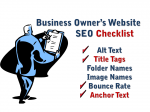 One of the most frequently asked questions we receive from business owners involves how to get their web site to show up on the front page of Google.   In a lot of cases the person asking this question is an owner or branch manager and not a technical web designer. They are usually  working with a contractor or in some cases an internal employee or maybe a family member to help create their web site.
In a lot of cases their web site is very professional and looks great, but just is not ranking well because it is not "formatted" in the proper way for the top search engines, like Google, Bing and Yahoo to read and "index",or list it for the type of products or services that the business provides in the geographic area that the business or brand focuses on in the local market.
To help answer this question we have created a One Page Website SEO Checklist for Business Owners listing the top areas to pay attention to when creating or redesigning any web site for better ranking in Google, Yahoo or Bing. These items are not platform specific and it does not matter what software or template program is used as long as the web page areas of concern can be modified. We have used these methods with small sites in local markets to very large sites that needed to rank on the front page of national markets.
Click the title of each item or the "read more" button for further explanation and in most cases a short video example.

Website SEO Checklist for Business Owners
The first top professional SEO technique is to make sure that the primary key word phrase is part of the website domain name. One of the main methods that internet search engines, including Google, use to identify and index web site keywords is the domain name.
[Read more...]