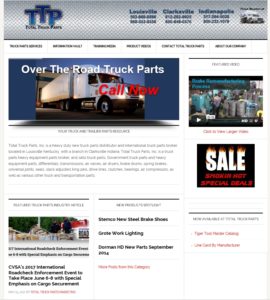 Challenge#1
Convert legacy HTML theme into Mobile Responsive web site that ranks on Google for "Louisville Truck Parts", "Kentucky Truck Parts" and "International Truck Parts Broker" for international sale of truck parts to U.S. and DOD companies operating overseas.
Challenge #2
Provide platform that allows the company staff to add content and embedded video from their factory suppliers involving product and services information and education.
Solution:
SEO friendly Studio Press commercial theme was selected with slider plug in for front page. All content was design with SEO keyword structure involved in pages, post articles and Meta field.
Results:
TotalTruckParts.com web site pages currently ranks on first page of Google for all targeted keywords. Additionally TotalTruckParts.com also ranks for their new branches: "clarksville truck parts" and "Indianapolis truck parts " on page 1 of Google.
The company staff is now able to add and edit new content and multimedia in support of the company marketing program as needed internally.