Creating a successful website for a business requires three critical items:
Search Engine Optimized Web Site
+
Initial and Continual Web Site Promotion to Major Search Engines
+
Automated Follow Up Program for Prospect Conversion
Unfortunately most business owners miss at least one if not two of these areas involving their web site.
One of the biggest areas is the failure to properly notify the major search engines like Google, Bing and Yahoo that your web site exists and also when it is updated or changes.
Early Web Site Submission Process:
Years ago professional web marketing companies would record each page or "URL" of a web site and then submit it for consideration or inclusion to each of the major search engines. The search engines would then send their "robot spider" out to crawl and categorize the website.  Each search engine has different requirements for submission and limits for the maximum number of pages that can be submitted per day. There was software that could automate the submission task, but it is generally too expensive to be justified by an individual business owner.  More recently programs like these have stopped selling their submission software because the major search engines have made it clear that although they may still accept individual submissions of web sites and pages, they place a very low priority on when they will index or crawl the submitted site.
The answer:  XML Sitemaps
Today major search engines, like Google, recommend that website owners create a separate HTML formatted file called a Site Map. The file contains information formatted to specifically allow the search engines to easily read and record all the pages in the web site.  Some web site platforms like WordPress, Joomla and Drupal have plugins or "add ons" that can automate the process of creating these files. They can inform the major search engines when the initial file is created for the web site and also whenever the content pages are changed and added. This is one of the reasons that web sites written with this type of automated search engine automation can rank higher than older static HTML formatted web sites, when all other things SEO areas are equal.
Options for older HTML Static sites:
For older web sites that cannot use one of the automated plug-ins can still create sitemaps using online or downloaded software designed to crawl the website and create a Sitemap file. Several of these programs are free for download and use up to a limited number of pages, but most have an option to upgrade for a small fee. The best method for finding the latest list is clicking on the following link or typing the following search in Google.com :  XML sitemap
Do I have a Sitemap?
In some of cases web hosting companies create a sitemap as part of their web site hosting process. If you want to check to see if your website has an XML Sitemap the easiest way is to type in the URL address bar of your browser:  http://yourdomain.com/sitemap.xml
If the sitemap exists it generally looks something like this image but can appear differently depending on the program that created it.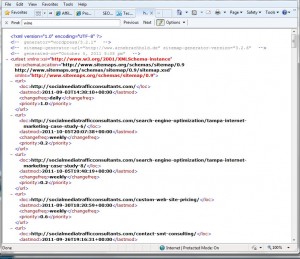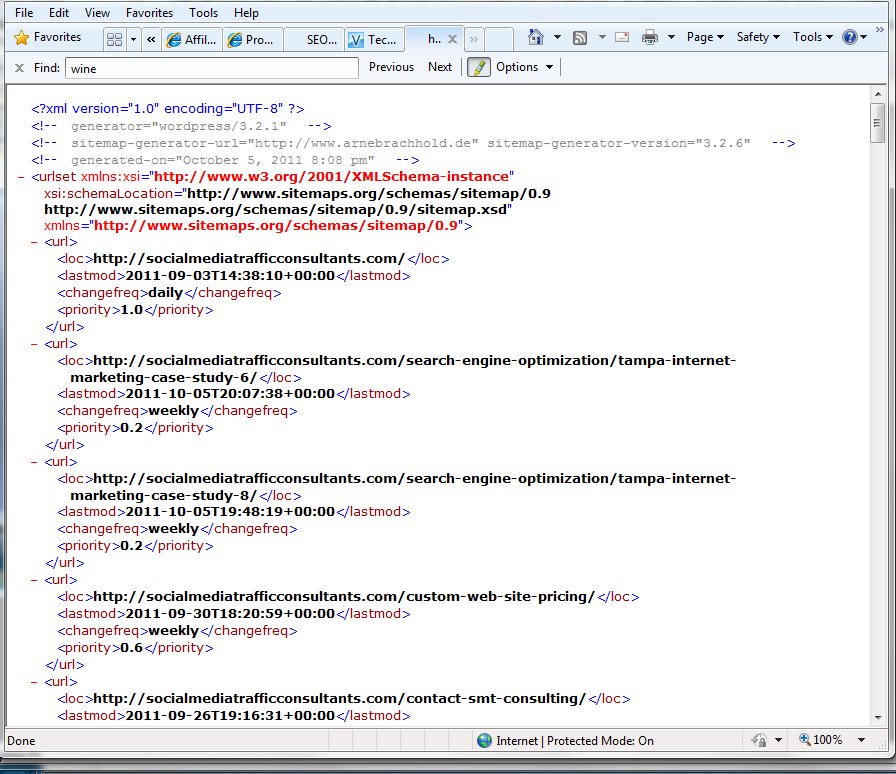 In short it is incredibly important for every business owner to be aware of website sitemaps, how they affect web site search ranking and how to determine if they have one.  The search engines will find out about your web site even without a sitemap eventually, but with the enormous number of new websites coming into the internet every day the time be indexed and ranked without one is increasing. The most pretty business web site in the internet does not benefit the business if the search engines, and therefore the consumers, do not know it exists…